(1 Aug) L'Immeuble Yacoubian (2007, Marwan Hamed)
67
[ Reviewed for
Voir
]
(1 Aug) The Bourne Ultimatum (2007, Paul Greengrass) [ review ] 90
(2 Aug) Hot Rod (2007, Akiva Schaffer) 39
[ Le collectif The Lonely Island, formé du réalisateur Akiva Schaffer et des acteurs Andy Samberg et Jorma Taccone, s'est fait connaître avec ses vidéos diffusés à SNL et sur le Web tels que la sensation YouTube Lazy Sunday. Hélas, si l'on se fie à leur premier long métrage, ils sont incapables de soutenir leur humour plus de quelques minutes à la fois. Hot Rod, l'histoire d'un pseudo-cascadeur tentant de gagner le respect de son beau-père (Ian McShane), s'avère donc décousu, répétitif et complaisant. De plus, plusieurs gags copiant ceux d'autres comédies récentes, le film finit par n'être qu'un pot particulièrement pourri (pour reprendre une expression de RBO) de l'idiotie assumée des films de Will Ferrell, de la ringardise intentionnelle de Napoleon Dynamite, de l'absurdité de Tom Green et des exploits abrutis de Jackass. ]
(6 Aug) Rush Hour 3 (2007, Brett Ratner) [ review ] 66
(6 Aug) 2 Days in Paris (2007, Julie Delpy) 81
[ Reviewed for Voir ]
(8 Aug) Contre toute espérance (2007, Bernard Émond) 68
[ "Breaking the Waves" without the sailor fucking and the True Believer innocence, this story of a woman's struggle to cope with her disabled husband is rather depressing but not without a certain celebration of human will. There's also a hardly subtle socio-economic message throughout, with the female protagonist having to deal with financial woes on top of her hubby's state. Worth seeing mostly for Jean-Claude Labrecque cinematography and the affecting performances from Guylaine Tremblay, Guy Jodoin and my man Gildor Roy. ]
(8 Aug) Superbad (2007, Greg Mottola) [ review ] 84
(9 Aug) Sauf le respect que je vous dois (2007, Fabienne Godet) 45
[ Reviewed for Voir ]
(10 Aug) Trapped in the Closet : Chapters 1-12 (2005, R. Kelly) 77
[ Watching this being projected (between a wonderful short musical documentary about dumpster diving called "Surfing the Waste" and the first two reels of Bollywood classic "Sholay") at the gorgeous McAuslan Brewery terrasse by the Lachine canal was quite an experience. 43 minutes of overly dramatic singing in the same repetitive melody about the ridiculously complicated adulterous relationships between a man, his wife, a pastor, the pastor's wife, the pastor's male lover, a cop, the cop's wife, a midget, etc. Can't wait for Chapters 13-22 of this hip-hopera! ]
(12 Aug) Our Daily Bread (2005, Nikolaus Geyrhalter) 70
[ Reviewed for Voir ]
(13 Aug) The Last Legion (2007, Doug Lefler) 31
[ Reviewed for Voir ]
(14 Aug) Bluff (2007, Fecteau & Lavoie) 62
[ Avant de démolir un bâtiment, un ouvrier (Jean-Philippe Pearson) décide de faire une dernière ronde. En ouvrant la trappe du plancher d'un des logements, il fait une consternante découverte. Le propriétaire de l'immeuble (Raymond Bouchard), par contre, ne semble pas s'en inquiéter outre mesure. Pour cause, il affirme s'être résigné au fait qu'on ne sait jamais vraiment à qui on loue et qu'au cours des 15 dernières années, toutes sortes d'individus ont habité l'appartement en question… Cette ingénieuse amorce permet de raconter plusieurs histoires impliquant un grand nombre de personnages tout en n'utilisant qu'un seul lieu de tournage, ce qui sauve évidemment bien des soucis (et des dépenses) à la production. D'autre part, ceci introduit un certain suspense car, alors qu'on va et vient entre les différentes intrigues, on se demande laquelle finira tragiquement. Le film n'est toutefois pas dramatique du début à la fin, loin de là! Une autre qualité du concept est justement qu'il permet une variété de tons, certaines vignettes étant relativement réalistes alors que d'autres sont carrément absurdes. Thématiquement, elles se rejoignent toutefois dans la façon dont elles impliquent toutes des mensonges, de la manipulation et, oui, du bluff: un voleur (Marc Messier) cache à son complice (Nicolas Canuel) qu'ils sont en train de dévaliser son propre appartement; un boxeur amateur (Rémy Girard) tente de convaincre son gendre (Pierre-François Legendre) qu'il a déjà été un grand champion; un couple (Isabelle Blais et Alexis Martin) négocie avec un inconnu (Gilbert Sicotte) pour lui vendre une toile qu'ils ont perdue, et ainsi de suite. Bluff a été réalisé à quatre mains par Marc-André Lavoie et Simon-Olivier Fecteau, qui en sont tous deux à leur première expérience de long métrage après plusieurs années à faire des courts. La transition n'est pas trop drastique, considérant la structure en petits récits croisés, mais le "couple créatif" (pour citer Fecteau) s'efforce quand même de donner une unité formelle à l'ensemble. Ceci est particulièrement évident dans le montage, qui croise habilement les différentes trames en créant des échos entre elles, et dans l'excellente musique de Frédéric Bégin, qui donne au film son élan. On peut regretter la facture visuelle plus ou moins soignée, attribuable au budget modeste, mais ceci n'enlève rien aux nombreux gags réussis et aux réjouissantes performances des comédiens. ]
(15 Aug) The Invasion (2007, Oliver Hirschbiegel? James McTiegue?) 44
[ Reviewed for Voir ]
(16 Aug) Paprika (2007, Satoshi Kon) 73
[ En seulement quatre films (plus une série télé, Paranoia Agent), Satoshi Kon s'est établi comme l'un des grands maîtres de l'animation japonaise. Mis à part le plus conventionnel mais néanmoins sympathique conte pour enfants Tokyo Godfathers, son oeuvre démontre qu'on peut faire du dessin animé foncièrement adulte, sans toutefois sombrer dans la démesure violente et sexuelle. Ce qui démarque les films de Satoshi Kon, c'est la finesse avec laquelle les personnages sont développés et, surtout, leur complexité narrative et visuelle.
Dans Perfect Blue, Millenium Actress et maintenant Paprika, les points de vue se multiplient, les limites entre les niveaux de conscience se brouillent, et il est souvent ardu de distinguer rêves, souvenirs et réalité. Ce type de jeu avec la perception est particulièrement approprié au cinéma d'animation, car cela permet d'expérimenter avec une variété de styles, allant d'un certain réalisme à l'imagerie la plus grotesque.
Paprika se déroule dans un futur rapproché, alors que des psychothérapeutes viennent de mettre au point un dispositif du nom de la DC Mini, qui leur permet non seulement d'observer les rêves de leurs patients mais d'y pénétrer. Lorsqu'un de ces appareils est subtilisé par un individu aux intentions malveillantes, la docteure Atsuko Chiba prend la forme de son alter ego Paprika pour aller enquêter dans le monde des rêves et débusquer le mystérieux terroriste du subconscient.
Les songes surréalistes qu'on découvre prennent diverses formes, dont celle d'une gigantesque parade de grenouilles jouant d'instruments de musique, d'électroménagers dansants, de statues de chats qui se font aller la patte et d'une foule d'autres objets, poupées et jouets. Plusieurs rêveries sont aussi littéralement cinématographiques, les personnages évoluant dans des films dans le film, plongeant à travers un écran ou une caméra, discutant de techniques filmiques… Satoshi Kon se permet même un clin d'oeil à ses films précédents.
Le tout est visuellement superbe, l'animation étant riche et inventive du début à la fin, mais l'histoire (inspirée du roman de science-fiction de Yasutaka Tsutsui) est tout aussi captivante, bien qu'elle porte souvent à confusion. Pour reprendre le cliché d'usage, Paprika exige qu'on adopte une logique onirique, où les émotions et les pensées qu'inspire une scène priment sur son contexte. D'une façon ou d'une autre, les fans du cinéaste seront ravis. ]
(17 Aug) Feast of Love (2007, Robert Benton) 48
[ Read my interview with Radha Mitchell ]
(18 Aug) La logique du remords (2007, Martin Laroche) 67
[ Bien que limité par un budget de seulement 3400 $, Martin Laroche s'affirme avec ce premier film comme un nom à surveiller – et à ne pas confondre avec celui du comédien, à qui il n'est pas apparenté: "L'an passé, raconte-t-il, j'ai travaillé sur le plateau de François en série, et parfois je pensais que c'était mon nom sur la feuille d'appel mais c'était le sien… J'aurais aimé avoir son salaire, mettons." La Logique du remords met en scène une confrontation tendue entre deux hommes, isolés dans un sous-sol. L'un d'eux est le père (Antoine Touchette) d'une fillette ayant été violée et tuée, l'autre est le monstre (Denis Faucher) coupable de ces actes, attaché devant lui. À partir de cette prémisse, on pourrait ne s'attendre qu'à une simple histoire de vengeance, gravitant autour d'un interrogatoire et de diverses tortures, mais le récit que Laroche nous concocte est beaucoup plus fascinant. Débutant avec quelques mots en espéranto et une citation de Marc-Aurèle ("Les hommes sont faits les uns pour les autres, donc instruis-les ou supporte-les"), ce film d'horreur psychologique annonce d'emblée des intentions plus philosophiques que sensationnalistes. On découvre, à travers les retours en arrière qui parsèment le huis clos, que le père en deuil s'oppose intellectuellement et moralement à l'idée de se faire justice lui-même. Comment en vient-il à se rabaisser consciemment au niveau de quelqu'un capable de tuer froidement? La réponse risque de vous troubler profondément. Pour Laroche, le processus de création a été assez rapide: "L'idée a mûri dans ma tête pendant un bon bout, se rappelle-t-il, mais quand j'ai décidé de la coucher sur papier, je l'ai écrite en deux mois puis je l'ai tournée tout de suite après." Il a appris que son film avait été accepté par le FFM tout aussi spontanément: "C'est Serge Losique qui m'a appelé et, sérieux, pendant à peu près 10 secondes, je me demandais lequel de mes amis me niaisait. Finalement, c'était vraiment lui; une chance que je n'ai pas dit: "Heille Alex, ferme donc ta gueule!"" ]
(19 Aug) Killing Zelda Sparks (2007, Jeff Glickman) 64
[ A pretty damn good little black comedy about a jealous and violent dude (Vincent Kartheiser) who, with the help of a journalist buddy (Geoffrey Arend), attempts to get even at last with the slutty, crazy bitch fatale (Sarah Carter) who broke his heart in high school. The storytelling makes deft use of ellipses and flashbacks and flashforwards, the visuals are dynamic, the performances are engaging… Good stuff. ]
(20 Aug) The Nanny Diaries (2007, Shari Springer Berman & Robert Pulcini) 30
[ Reviewed for Voir ]
(21 Aug) Balls of Fury (2007, Robert Ben Garant) 52
[ Randy Daytona (Dan Fogler), un athlète inégalé dans sa discipline, est recruté par un agent du FBI (George Lopez) pour s'infiltrer dans un tournoi illégal organisé par le mystérieux Feng (Christopher Walken) et prouver que ce dernier est impliqué dans des activités criminelles. Si cette prémisse vous est familière, c'est que les scénaristes de Balls of Fury l'ont empruntée à Enter the Dragon, le classique du film d'arts martiaux mettant en vedette Bruce Lee. Seulement, ils y ont apporté une légère modification: ils ont retiré toutes les scènes de kung-fu et les ont remplacées par des matches de ping-pong! Il faut avouer que l'idée est rigolote, mais on court le risque de se retrouver devant une de ces comédies qui se contentent d'une seule idée centrale de ce type et continuent de l'exploiter longtemps après que le potentiel comique en soit épuisé. C'est en partie le cas ici, les scènes où les joueurs de ping-pong font de l'attitude et où la caméra multiplie les prises de vue à la Matrix devenant rapidement redondantes. L'offre humoristique varie tout de même quelque peu, y allant de références à Rocky ou The Karate Kid et, évidemment, se permettant plusieurs gags en bas de la ceinture, notamment lors d'une séquence assez délirante où les participants du tournoi se font offrir les services d'esclaves sexuels… mâles. Le film de Robert Ben Garant (mieux connu comme le créateur et une des stars de la série Reno 911!) ne brille pas par sa subtilité ou son intelligence, mais démontre un sens de l'absurde prononcé. Sur ce plan, le casting de Christopher Walken ne pourrait pas mieux convenir. Avec son air excentrique et ses intonations décalées, qui frisent souvent l'auto-parodie, en plus d'un accoutrement qu'on pourrait décrire comme un mélange de Fu Manchu, Dracula et Elton John, le vétéran acteur ne déçoit pas. Dans le rôle du champion de ping-pong obsédé par Def Leppard, Dan Fogler est aussi plutôt désopilant, même s'il donne parfois l'impression de n'être qu'un fac-similé de l'exubérant Jack Black. Et on ne peut passer sous silence la présence de la très, hum, athlétique Maggie Q. Alors, si vous êtes férus de tennis de table et de films de kung-fu ou que vous voulez simplement rigoler un peu, Balls of Fury devrait vous faire passer un bon moment. ]
(22 Aug) Silk (2007, François Girard) 86
[ Dans le documentaire François Girard en trois actes, de Mathieu Roy, Martin Scorsese avance que la musicalité est ce qui définit le plus le cinéma de François Girard. Ceci est évident dans Thirty-Two Short Films About Glenn Gould et Le Violon rouge, mais aussi dans Silk qui, bien que le sujet ne soit pas musical, semble construit comme une partition, avec des refrains et des mélodies qui reviennent. Vers 1860, Hervé Joncour (Michael Pitt), qui vit une existence paisible auprès de sa bien-aimée Hélène (Keira Knightley), est contraint de la quitter pour aller acheter des oeufs de ver à soie au Japon, où il tombe sous le charme d'une mystérieuse concubine (Sei Ashina). Voilà les grandes lignes du roman de Baricco, dont un des éléments les plus distinctifs est certainement la concision de la prose, où les images simples et fortes prédominent sur les longues descriptions. Plus qu'un drame romantique, Silk est une série de longs périples qui amènent Joncour à se rendre au bout du monde, dans un pays auquel très peu d'étrangers ont accès. Silk est un film plus impressionniste qu'anecdotique, et c'est la succession de tableaux beaux à couper le souffle (le directeur photo Alain Dostie mérite toutes les accolades imaginables), plus que le détail du récit, qui nous émeut. Le film de Girard se refuse en effet à la dictature du montage frénétique style vidéoclip, embrassant plutôt une certaine langueur. Le récit est pourtant très dense, relatant de nombreux voyages et racontant une histoire qui s'étale sur plusieurs années, mais les déplacements et le passage du temps se font de façon naturelle, comme le va-et-vient de la respiration. Par sa nature ouverte, Silk se prête à différentes interprétations, Girard laissant beaucoup de place à l'imagination du spectateur. ]
(22 Aug) Shoot 'Em Up (2007, Michael Davis) [ review ] 68
(23 Aug) Cobrador, In God We Trust (2007, Paul Leduc) 51
(23 Aug) Vent mauvais (2007, Stéphane Allagnon) 75
(24 Aug) 53 dias de invierno (2007, Judith Colell) 43
(26 Aug) Body/Antibody (2007, Kerry Douglas Dye & Jordan Hoffman) 62
(26 Aug) Où vas-tu Moshé? (2007, Hassan Benjelloun) meh
(26 Aug) Family Motel (2007, Helene Klodawsky) 70
(26 Aug) Being Innu (2007, Catherine Mullins) ok
[ Reviewed for Voir ]
(28 Aug) Surviving My Mother (2007, Émile Gaudreault) 67
(Caroline Dhavernas, as always: 100)
[ Reviewed for Voir ]
(29 Aug) La Brunante (2007, Fernand Dansereau) 78
[ Reviewed for Voir ]
(30 Aug) Eastern Promises (2007, David Cronenberg) [ review ] 90
(1 Jul) Ghosts of Cité Soleil (2007, Asger Leth)
89
[ Bien que le cinéma fantastique occupe toujours une place de choix dans la programmation, Fantasia diversifie de plus en plus son offre. Cette année, par exemple, le festival inaugure la section Documentaries from the Edge, dont fait partie Ghosts of Cité Soleil, d'Asger Leth, une oeuvre magistrale qui nous plonge dans l'endroit que l'ONU a déclaré le plus dangereux du monde. Le film s'apparente à Cité de Dieu, tant dans la pauvreté et le climat de violence qui y sont dépeints que dans le style visuel fébrile. Sauf que, incroyablement, il n'y a pas de mise en scène ici, les évènements sont capturés spontanément, souvent au risque de la vie du documentariste. Ce dernier est témoin du chaos constant entourant Cité Soleil et le reste d'Haïti vers la fin du règne d'Aristide et, plus précisément, du drame qui se trame entre deux frères, 2pac et Bily, leaders ennemis des gangs qu'on surnomme les Chimères. Une véritable tragédie shakespearienne se déroule sous nos yeux, littéralement triste à mourir, car on sait qu'aucune fin heureuse n'est possible dans cet environnement infernal. Soulignons que Wyclef Jean, qui est obliquement impliqué dans le récit, signe l'excellente musique du film. ]
(2 Jul) wool 100% (2006, Mai Tominaga) 64
[ Dans une maison ensevelie sous le bric-à-brac qu'elles s'acharnent à amasser, deux vieilles recluses sont perturbées par l'intrusion d'une mystérieuse jeune fille obsédée par le tricot, qui réveille des souvenirs d'enfance troubles chez elles. La prémisse suggère un énième film de fantômes japonais, mais Wool 100 %, de Mai Tominaga, prend plutôt les allures d'un conte, porté par une direction artistique foisonnante, quelques séquences animées et des performances d'actrices peu loquaces mais très expressives. ]
(4 Jul) Deaden (2006, Christian Viel) 67
[ Assez noir et violent pour faire passer Sin City pour une bande dessinée d'Archie, Deaden, du Montréalais Christian Viel, compense pour son budget microscopique avec une succession ininterrompue d'effets scabreux et d'emprunts assumés aux clichés des vieux films d'action. Dans le rôle d'un ex-flic déterminé à se venger des salopards qui ont tué sa femme enceinte, John "Arrow in the Head" Fallon (qui signe aussi le scénario) a peu à envier à Steven Seagal! ]
(5 Jul) Exiled (2006, Johnny To) 80
[ Le très prolifique Johnny To raconte dans Exiled une histoire de gangsters qui, bien qu'en apparence des plus conventionnelles, multiplie habilement les fausses pistes et les revirements inattendus. La séquence d'ouverture, une confrontation tendue digne des westerns de Sergio Leone, vaut à elle seule le prix d'entrée, mais les autres fusillades du film s'avèrent tout aussi brillamment mises en scène, et la finale est à la fois explosive et poignante. ]
(6 Jul) Poultrygeist (2007, Lloyd Kaufman) 55
[ Lloyd Kaufman, le créateur de The Toxic Avenger, nous revient avec Poultrygeist: Night of the Chicken Dead, dans lequel des poulets zombies terrorisent Tromaville à la suite de la construction d'une rôtisserie sur un cimetière ancestral indien. Ceci résulte en un flot incessant de gore, de nudité gratuite et d'humour de mauvais goût, évidemment, mais aussi à de délirants numéros musicaux et à des éléments de critique sociale semblables à ceux de Fast Food Nation. ]
(7 Jul) Hero Tomorrow (2006, Ted Sikora) 43
[ Un sympathique film de super-héros postmoderne… ]
(8 Jul) Mulberry Street (2007, Jim Mickle) 74
[ Dans Mulberry Street, un croisement entre Willard et 28 days later, Jim Mickle imagine les conséquences d'une invasion de rats mutants dont la morsure transforme les humains en créatures meurtrières. Cette prémisse douteuse et l'utilisation récurrente d'images sombres et verdâtres peuvent initialement rebuter, mais le film possède une vaste portée allégorique, avec des échos à l'anarchie et la paranoïa du New York de l'après 11 septembre, à la réponse inadéquate des autorités et services d'urgence après le passage de l'ouragan Katrina et à la guerre en Irak. Habité par la mélancolie, voire le nihilisme, ce drame d'horreur renferme néanmoins quelques passages jouissifs, en grande partie grâce au dur à cuire Clutch (interprété par le coscénariste Nick Damici), un ex-boxeur moustachu qui refuse de se laisser intimider par ces saloperies mi-homme, mi-rat. ]
(1 Jul) Les Aimants (2004, Yves Pelletier) [ review ] 91
(3 Jul) Adam's Apples (2007, Anders Thomas Andersen) 72
[ Reviewed for Voir ]
(4 Jul) Rescue Dawn (2007, Werner Herzog) 83
[ Ten years after devoting a documentary to it ("Little Dieter Needs to Fly"), Werner Herzog explores once again the incredible story of Dieter Dengler (Christian Bale, hot-headed), a German immigrant turned US Air Force pilot who, during his first mission, was shot down and captured by Laotian guerillas. Kept prisoner in the worst conditions for two years, he eventually organizes a daring escape, only to find that getting away from the guards was a piece of cake next to the perils of the jungle surrounding the camp. Herzog's first Hollywood flick, while probably his most commercial (the bookends on the army ship are practically out of "Top Gun"!), remains faithful to his thematic obsessions, namely man's insignificance in the face of nature and the return to a primitive state of survival, away from the precepts of civilization. We also recognize his quasi-documentary point of view and, paradoxically, his sense of majestic imagery. There's even a dwarf! As for Bale, this isn't is best performance but he's riveting as always, and it's interesting how this part echoes both "Empire of the Sun" (where his character was also in a POW camp) and "The Machinist" (for the disturbing loss of weight). ]
(5 Jul) Ma tante Aline (2007, Gabriel Pelletier) 5
[ L'idée de faire un film dont le personnage principal est une vieille dame excentrique, une ancienne vedette de cabaret qui s'accroche à ses années de gloire du temps où elle chantait Besame Mucho dans les clubs les plus chauds, de Saint-Henri à La Havane, n'est pas mauvaise en soi. Avec Béatrice Picard dans le rôle, on est garanti d'avoir droit à un personnage haut en couleur et un film réjouissant, n'est-ce pas? Oui et non. La vénérable actrice québécoise semble bien s'amuser, mais c'est loin d'être le cas pour nous dans la salle. Nous ne faisons probablement pas partie du public cible, mais quel est-il donc? Celui de l'âge d'or qui raffole des soupers-spectacles de Michèle Richard? Les carriéristes qui, comme le personnage de Sylvie Léonard, se sentent coupables de délaisser un vieux parent sénile? Certainement pas les moins de 30 ans, qu'on imagine mal embrasser ce film qui aurait paru quétaine même s'il avait pris l'affiche en 1987, malgré l'agrafage maladroit d'un membre de la génération Passe-Partout (Rémi-Pierre Paquin) au récit. Un des premiers faux pas commis par les scénaristes Frédéric Ouellet et Stéphane J. Bureau est de compliquer inutilement la prémisse, qui voit la publicitaire névrosée Geneviève (Léonard) devenir tutrice malgré elle de son exubérante tante Aline (Picard). Plutôt que de se contenter de développer ces deux femmes on ne peut plus différentes, le film les implique dans une insignifiante histoire de campagne de financement pour un organisme de charité, dont Aline devient la porte-parole au gré de circonstances idiotes. Une série de gags lourdauds s'ensuit, la matante s'improvisant notamment danseuse de hip hop. Malaise. Parallèlement, une trame sentimentale curieusement semblable à celle du Secret de ma mère se tricote alors qu'Aline raconte ses jeunes années à sa nièce, ce qui donne lieu à des numéros musicaux mis en scène si peu cinématographiquement qu'on croirait regarder Le Match des étoiles. L'ensemble du film de Gabriel Pelletier (Karmina 1-2, La Vie après l'amour) est d'ailleurs très télévisuel, mis à part les jolies séquences tournées à Cuba, où la majorité du budget semble être passée. On apprécie le désir de Pelletier de s'éloigner du culte de la jeunesse au cinéma, mais ce n'est pas avec des films aussi peu stimulants que Ma tante Aline qu'il va faire avancer la cause. ]
(9 Jul) Guys and Dolls (2007, Nick Holt) ???
[ Sweet Jesus, is this for real? This is ostensibly a straight documentary about dudes who have delusional relationships with sex dolls, treating them like they're human and shit. If that's true, this is the most pathetic damn thing… But it can't be, right? This is hilariously ridiculous, like the best Christopher Guest mockumentaries. Come on, there's a guy who's all proud of owning two dolls, three guns and a broadsword, another who thinks he's a super-hero because he hang-glides, one who has so many dolls he down to cramming some under his couch and this Davecat fellow who sends his synthetic girlfriend of 6 years out to a doll doctor to get repaired! Still, as far as I can tell from googling around, this IS real, which makes it an unbelievably sad science-fictionish tale. ]
(10 Jul) God Grew Tired of Us (2007, Christopher Quinn) 66
[ Reviewed for Voir ]
(10 Jul) The 4th Life (2006, François Miron) 58
(12 Jul) The Wizard of Gore (2007, Jeremy Kasten) 54
(14 Jul) Zoo (2007, Robinson Devor) 67
[ Part of Voir's Fantasia coverage ]
(11 Jul) Dans Paris (2007, Christophe Honoré) 50
[ Reviewed for Voir ]
(12 Jul) joshua (2007, George Ratliff) 79
[ Reviewed for Voir ]
(13 Jul) The King of Kong (2007, Seth Gordon) 72
[ Like "Guys and Dolls" (see above), this documentary is so wonderfully ridiculous that it could be a Christopher Guest flick. I was aware there were some hardcore gamers out there with their Wii and their Xbox and their PS3 and whatnot, but who knew that there were these aging dudes who still played obsessively first generation arcade games like Donkey Kong? There's also a great narrative here, as the arrogant Kong record holder since 1982 is being challenged by couldn't be nicer guy. Seriously, this Billy Mitchell fellow is the biggest asshole in the history of cinema! The challenger, Steve Wiebe, is clearly the better player, but Mitchell does every cowardly, bastardly thing to hold on to his stupid title. I know, I'm being silly now, getting all worked up over a Donkey Kong championship, but that's what's so great about the movie. It's often hilarious to watch these grown men make so much of such an insignificant thing but at the same time, the filmmaker manages to involve you in it all the same. ]
(16 Jul) Sunshine (2007, Danny Boyle) [ review ] 75
(17 Jul) Skinwalkers (2007, Jim Isaac) 6
[ Reviewed for Voir ]
(18 Jul) I Now Pronounce You Chuck and Larry (2007, Dennis Dugan) 40
[ "KY Jelly, 2 for $1? HELL YEAH!"
I assume some reviewers will work themselves up about the movie being homophobic or something, but I won't. Oh, this ain't the most positive portrayal of homosexuality: it's often idiotic and in bad taste, it indulges in tired stereotypes and gets a lot of mileage out of the discomfort insecure heterosexual men (here macho Brooklyn firefighters) feel towards gay people. But these things are routine symptoms of this kind of juvenile comedies; that the movie goes out of its way to throw in a message about tolerance is a step in the right direction, however clumsy and somewhat hypocritical. What sinks the movie, really, is that it's just not that funny. This is one of Sandler's lesser efforts. He made me laugh here and there, but I spent more time rolling my eyes or being bored. Ironically, for a film about man-on-man action, the best thing about it is all the lovely lady lumps on display, courtesy of twin sisters, a quartet of Asian Hooters girls and, of course, Jessica "Hot Damn, Woman!" Biel. ]
(19 Jul) Anchorman (2004, Adam McKay) [ review ] 85
(20 Jul) everything will be ok (2007, Don Hertzfeldt) 100
[ I saw this during DJ XL5's Kaleidoscopic Zappin' Party, in a gorgeous 35mm print. This is one of the most powerful examples of why film is superior to video I've ever seen. Hertzfeldt uses to its full potential the dreamlike state created on the viewer by images projected 24 frames per second and, for 17 minutes, he takes you on a journey into the life of one Bill. Using his usual deceivingly simple stick figure drawings, plus some photographs and colourful special effects, all of which in simultaneous multiple frames, the film immerses you completely in an altered state of mind. I'd rather not go into details about the story (which is told through perfectly worded omniscient narration), as part of the genius of the piece is how it keeps confusing and surprising you. It starts out funny and absurd, grows more and more thoughtful, then at some point it becomes practically hallucinogenic. Throughout, it's also incredibly emotionally affecting. This is a full-on masterpiece, easily the best work of art I've experienced all year. Incredibly, this is only the first part of a planned trilogy. I truly wonder how Hertzfeldt could possibly top what he's accomplished here. ]
(20 Jul) Hairspray (2007, Adam Shankman) [ review ] 44
(22 Jul) The Bourne Supremacy (2004, Paul Greengrass) [ review ] 72
(23 Jul) Café Transit (2005, Kambozia Partovi) 18
[ Reviewed for Voir ]
(23 Jul) Iluminados por el fuego (2005, Tristán Bauer) 63
[ Reviewed for Voir ]
(23 Jul) Hard Boiled (1992, John Woo) [ review ] 93
(24 Jul) Talk to Me (2007, Kasi Lemmons) 69
[ Reviewed for Voir ]
(24 Jul) The Simpsons Movie (2007, David Silverman) 60
[ It is what it is: a long, about average episode of the show. That means that it's certainly watchable enough, I laughed regularly and these characters remain engaging after all those years… But there's nothing in the movie that wasn't done better already in the series. ]
(25 Jul) Le Héros de la famille (2007, Thierry Klifa) 64
[ Reviewed for Voir ]
(25 Jul) Arctic Tale (2007, Sarah Robertson) 8
[ Reviewed for Voir ]
(26 Jul) Les 3 p'tits cochons (2007, Patrick Huard) 63
[ Les relations homme-femme étant le sujet de prédilection de beaucoup d'humoristes québécois, il n'est pas surprenant que Patrick Huard se penche à nouveau sur elles dans son premier long métrage. Sauf que, là où sur scène les observations sur ce thème passent à travers une succession de gags, le film ne se veut pas que comique. L'exagération des stéréotypes voulant que tous les hommes soient minables ou salauds et les femmes, castratrices ou hystériques, peut faire rire. Mais lorsque le ton devient plus sérieux, le constat est désolant et il est difficile d'être touché par les drames que vivent les personnages qui, avec tous leurs défauts, semblent souvent mériter ce qui leur arrive. Or, Huard réussit en grande partie à contrer cette impression avec le choix et la direction d'acteurs qui parviennent à rendre les "cochons" attachants malgré tout (ce qui n'est toutefois pas le cas des personnages féminins, qui demeurent antipathiques). Guillaume Lemay-Thivierge, particulièrement, impressionne une fois de plus avec sa physicalité et sa candeur; il a beau jouer un obsédé sexuel, on l'adore quand même. De façon similaire, Claude Legault aborde la bêtise de son personnage avec intelligence et fait preuve de beaucoup de charme. Comme le veut son rôle, Paul Doucet paraît plus réservé que ses partenaires, mais on réalise éventuellement que sa performance est plus complexe et sournoise qu'on ne le croyait. Et, quand les trois frangins sont réunis, on croit immédiatement à leurs liens de sang et à leur complicité. Tout aussi remarquable est la façon dont Huard met en images le récit, démontrant un véritable sens du cinéma. Les scènes rejouées sous différents angles, les fausses publicités hyper-sexualisées et la révélation différée du personnage interprété par Luc Senay comptent parmi les astucieuses trouvailles du film. Le seul bémol est l'utilisation superflue de la narration, qui explique inutilement tout ce qu'Huard exprime déjà parfaitement visuellement. Par exemple, pendant le réjouissant hommage à Singin' in the Rain, la joie du personnage de Lemay-Thivierge est verbalisée par ce dernier en voix hors-champ, alors que de le voir sauter dans des flaques d'eau est suffisamment évocateur. Reste qu'on se retrouve ici devant un premier film vivant, drôle et grinçant, qui alimentera sûrement beaucoup de discussions. ]
(29 Jul) The Bourne Identity (2002, Doug Liman) [ review ] 66
(31 Jul) scorpion (2007, Julien Seri) 52
[ Reviewed for Voir ]
(2 Jun) Catch Me If You Can (2002, Steven Spielberg)
[ review ]
91
(4 Jun) Hostel: Part II (2007, Eli Roth) 54
[ It starts like a crappy straight-to-video sequel, with badly incorporated flashbacks recapping the first movie and that most lame of horror movie tricks, the BOO!-no, wait, it-was-a-nightmare scare. Plus we're still with the surviving jackass from the original played by Jay Hernandez but, thankfully, we soon move on to new faces, namely a trio of American babes studying abroad. These are still one-note characters, but as played by cute dork Heather Matarazzo, sexy bitch Bijou Phillips and model-like Lauren German, they're much less obnoxious than the guys in Part I.
On the other hand, the gender reversal brings along a misogynistic streak and makes this into the usual let's-watch-women-suffer horror show. But not before a long, not very exciting series of creepy false starts and ill omens. The carnival is a nice touch, and I liked that we're shown nearly as much of the "johns" as of the girls they're buying. As in the previous pic, the scariest thing is the idea itself of men paying to hurt and kill people and being so damn casual about it. There's nothing scary about the big gore scenes, those are just disgusting. One in particular, involving a naked girl hung upside down, is even worse than that, it's downright obscene. This will sound like an endorsement for fans of the genre but seriously, what possible enjoyment can there be in watching such loathsome violence? There's no subtext, no artistry, no suspense… You're promised that a woman will get slaughtered before your eyes, and she does. It's not scary, not surprising, not skilfully crafted… Just meaningless death.
I'm hardly against violent entertainment. I love action movies and films as extreme as "A Clockwork Orange", "C'est arrivé près de chez vous" and "Ichi the Killer", but those have social commentary, black humor and brilliant filmmaking going for them. For the most part, "Hostel: Part II" is only a B-movie that gets off on going too far, with little redeeming values. As I said, the early girly stuff is amusing (Roth should make a college sex comedy), whenever the movie's attention turns to the clients' point of view, it's truly disturbing and when we get to the inevitable revenge of the Final Girl, it's good for a few tasteless laughs. Overall, I'm not sure what to think of this. Some of it me turned me the hell off morally, but if you're able to take it as "just a movie", it's not so bad, I guess. ]
(7 Jun) jindabyne (2007, Ray Lawrence) 57
[ Reviewed for Voir ]
(9 Jun) Ocean's Thirteen (2007, Steven Soderbergh) [ review ] 52
(10 Jun) eréndira ikikunari (2007, Juan Mora Catlett) 55
[ Moins maîtrisé, mais tout de même impressionnant, Eréndira ikikunari, du Mexicain Juan Mora Catlett, raconte l'histoire vraie d'une adolescente qui, au début du 16e siècle, s'est attaquée aux Conquistadors espagnols, alors que la majorité de ses compatriotes P'urhépecha se soumettaient ou s'entretuaient entre eux. Un croisement entre la légende de Jeanne d'Arc et Apocalypto de Mel Gibson (sacrifices humains et combats sanglants à l'appui), Eréndira ikikunari présente aussi des séquences surréalistes à la Jodorowsky et des interludes illustrés. ]
(11 Jun) Tuli (2007, Auraeus Solito) 80
[ La pièce de résistance est sans contredit Tuli, du Philippin Auraeus Solito, une oeuvre qui surprend dès les premières images. Un homme affûte un couteau, assis sur le bord d'un étang. Quatre gamins accourent, et l'homme leur demande sans préambule: "Alors, qui va se faire circoncire?" La séquence qui suit fait grincer des dents, certes, mais surtout beaucoup rire! L'absurdité et l'humour sexuel de cette scène ressurgissent régulièrement par la suite, mais le film présente aussi beaucoup de moments d'une grande beauté ainsi que des passages plus dramatiques impliquant des réalités difficiles, soit la violence domestique, l'alcoolisme et l'intolérance. Au centre de tout ceci se trouve la fille du circonciseur (merveilleusement interprétée par Desiree Del Valle), qui s'amourache tour à tour d'une autre femme et d'un jeune homme qui a encore son prépuce, ce qui, dans les deux cas, choque les autres habitants du village. Filmé de façon à la fois naturaliste et lyrique, Tuli s'apparente au cinéma de Terrence Malick, mais avec ce ton irrévérencieux qui s'ajoute ainsi qu'une insolite dimension religieuse. Une bonne part du récit se déroule un Vendredi saint, ce qui donne lieu à des processions religieuses incluant de l'auto-flagellation et une mise en scène de la Passion du Christ. Ces éléments s'agencent en un film unique et superbe, à voir absolument. ]
(11 Jun) Day Watch (2007, Timur Bekmambetov) 73
[ Succès monstre en Russie, la saga fantastique de Timur Bekmambetov entamée dans Night Watch se poursuit ici dans un film encore plus épique, digne des plus gros blockbusters hollywoodiens. Avec des emprunts à Highlander, The Matrix et Blade, mais aussi d'une truculence toute slave, Day Watch est un divertissement gonflé à bloc, bourré d'effets spéciaux imaginatifs et de scènes d'action époustouflantes. La mythologie entourant le conflit millénaire entre les forces de la Lumière et celles de l'Ombre, qui arrive à son paroxysme dans le Moscou contemporain, est un peu trop tarabiscotée et parfois ridicule (la Craie du Destin, vraiment?). Toutefois, la dimension intime du récit tel que vécu par le héros (Konstantin Khabensky), déchiré entre son fils et la femme qu'il aime, qui combattent dans des camps adverses, est suffisamment captivante. ]
(13 Jun) Trois rois (2007, Katia Paradis) 56
[ Reviewed for Voir ]
(14 Jun) Manufacturing Dissent (2007, Debbie Melnyk & Rick Caine) 42
[ Read my interviews with Melnyk and Caine ]
(14 Jun) nitro (2007, Alain Desrochers) 38 (Bianca Gervais: priceless)
[ Bien que vendu comme une suite ininterrompue de courses de voitures, de bagarres et de filles sexy, Nitro s'avère un film où les émotions prennent autant de place que les artifices: "Pour moi, explique Alain Desrochers, c'est un film d'amour. C'est un gars qui est prêt à n'importe quoi pour sauver sa blonde, qui est prêt à foncer comme c'est pas permis, c'est pour ça qu'il vole carrément un coeur. Il s'arrange dans une société où les systèmes médicaux ne sont pas toujours adéquats. J'avais le goût qu'il y ait un contenu véritable et des sujets sociaux qui sont assez virulents, quand tu t'arrêtes pour les regarder."
Le film est tout de même né d'un désir de faire un film d'action, genre peu représenté dans notre cinématographie nationale: "Il faut toujours aller voir les films américains, déplore Desrochers. Je me disais: pourquoi pas un film d'action québécois? Puis, plus on écrivait, Benoît Guichard, le scénariste de mon film La Bouteille, et moi, plus on ramenait ça vers une histoire plus émotionnelle. Plus ça allait, moins il y avait d'action et plus il y avait de tendresse. Mais j'avais le goût qu'il y ait une tension tout le long quand même."
Lorsqu'on demande au cinéaste quels films l'ont influencé pour Nitro, il mentionne le classique du "film de chars" Point limite zéro (Vanishing Point) et le film d'action français Banlieue 13, mais aussi un titre plus surprenant: "La scène finale est directement inspirée d'un film de Claude Sautet, Les Choses de la vie." On est vraiment loin du dérivé de The Fast and the Furious auquel certains s'attendaient!
Pour Guillaume Lemay-Thivierge, qui en a pourtant vu d'autres, lui qu'on voit au cinéma et à la télévision depuis son enfance, Nitro est un cadeau tombé du ciel: "C'est exactement ce que j'ai toujours rêvé de faire: de l'action, de la course, de la bataille, du suspense, des cascades… Je ne pouvais pas espérer mieux."
Lemay-Thivierge, qui, comme toute une génération de mecs, s'est enthousiasmé en regardant Bruce Willis dans Die Hard quand il était jeune, se retrouve maintenant lui-même en tête d'affiche d'un film d'action. Quand on fait remarquer au comédien que Nitro prendra justement l'affiche la même semaine que le quatrième volet de Die Hard, il répond du tac au tac: "Pauvre Bruce, il doit avoir la chienne en tabar…!"
Alors que les productions hollywoodiennes sont de plus en plus noyées sous les effets spéciaux, Nitro est en quelque sorte un retour vers un genre de film d'action plus direct: "Je suis allé voir Spider-Man 3 dernièrement, raconte Lemay-Thivierge, et dès qu'il se mettait à voler ou à se suspendre, je décrochais parce que je savais que ce n'était plus lui, c'est de l'animation par ordinateur. Tu sens toute la technique en arrière, même si c'est bien fait. Avec Nitro, on a voulu faire un film plus réel. Les cascades sont hot, elles sont poussées à l'extrême, mais elles se peuvent à la limite. J'ai dit à Alain: "Je veux tout faire." Moi, mon idole, c'est Jean-Paul Belmondo, alors je me suis retrouvé à faire un Belmondo de moi-même!"
Le film fut aussi très demandant dramatiquement pour l'acteur, qui passe de jeune bum à père de famille et à héros enragé: "J'ai de l'agressivité en moi, mais qui sort juste pour les personnages, parce que je ne suis pas comme ça dans la vie. J'ai peur de la bataille et de la guerre pour mourir. Mais quand c'est le temps d'être un peu fou et agressif dans un rôle, je suis bien là-dedans, c'est mon défoulement personnel."
Lucie Laurier, qui joue l'ex du personnage de Lemay-Thivierge, semble être devenue un porte-bonheur pour le cinéma québécois, ayant contribué au succès phénoménal de films comme La Grande Séduction et Bon Cop, Bad Cop: "Les autres films à succès, je vais rester modeste, c'est pas moi qui les portais sur mes épaules… C'est un heureux hasard."
Laurier est impliquée dans Nitro depuis le début; Desrochers, un ami de longue date, la voulait dans son film depuis l'écriture du scénario. L'appréciation est réciproque: "Ce que j'aime d'Alain, confie-t-elle, c'est que tu peux lui apporter n'importe quoi et il est ouvert. Il veut juste faire un meilleur film, plus touchant."
C'est d'ailleurs cet aspect plus personnel, plus réfléchi du projet qui l'a séduite: "Le propos est soutenu, il y a un dilemme moral, les personnages ne sont pas stéréotypés. Mon personnage, c'est pas juste une pitoune, c'est une fille qui a du caractère. J'aimais le côté fille d'action, mais je trouvais que le personnage aurait été beaucoup moins intéressant si je ne lui avais pas apporté une sensibilité puis une blessure, afin qu'on comprenne pourquoi elle est comme ça."
Laurier a néanmoins apprécié la chance de prendre part à des scènes d'action: "C'est sûr que quand tu bouges beaucoup, quand tu fais des affaires plus dans le mouvement, le texte devient moins lourd. C'est peut-être quelque chose de plus instinctif qui sort. Je suis très physique dans la vie, alors j'ai aimé ça."
Comme spectatrice, elle a aussi certaines affinités avec le cinéma d'action: "J'ai des goûts très larges, je peux aimer The Bourne Identity avec Matt Damon, puis je peux aimer un film comme Babel. Mais j'aime les bons films d'action, les films qui marchent. Mon fils a eu sa passe Van Damme, alors je regardais ça avec lui!"
Enfin, le tournage de Nitro a été l'occasion de renouer avec Lemay-Thivierge, qu'elle avait déjà côtoyé dans des circonstances bien différentes: "Quand on était petits, on avait fait une émission Droit de parole sur les enfants vedettes. Je me souviens que ça n'avait pas cliqué, il me niaisait. Je les aimais pas, lui et Mahée Paiement, ils faisaient le petit couple populaire, moi je faisais plus des films d'auteur… Mais c'est sur le plateau de Nitro que j'ai réalisé à quel point on avait des choses en commun: on est tous les deux parents, on a tous les deux commencé jeunes, on est tous les deux physiques, on est tous les deux petits! On a une belle chimie à l'écran", conclut l'actrice. ]
(16 Jun) Evan Almighty (2007, Tom Shadyac) [ review ] 21
(17 Jun) SiCKO (2007, Michael Moore) 67
[ Having recently seen the anti-Michael Moore docu "Manufacturing Dissent" (and interviewed its directors), watching his latest was an odd experience. I'm a Moore fan, even though I feel he'll never make another "Roger & Me"-level masterpiece again, because that film was so personal, his trademark twists on conventional documentary techniques were then unheard of and he was still an underdog. As for the "Manufacturing" accusations, it's long been obvious that Moore's movies are manipulative, hardly subtle and not above taking narrative shortcuts. Watching "SiCKO", I was particularly aware of this. Then again, even when you're aware of Moore's tricks… They're still good tricks! Dude takes a potentially boring subject (do we really wanna be watching an exposé of the failings of the American healthcare system? it's certainly not as explosive a subject as gun violence or the evils of President Bush) and makes it gripping, moving and, quite often, bitterly funny. I assume there are a lot of cut corners, exaggerations and maybe even some flat-out lies thrown in there (don't know about France, the UK and Cuba, but Canada's healthcare system is nowhere near as flawless as Mike makes it look). But goddamn it if the flick didn't play me like a violin! As I mentioned to Melnyk and Caine, the only mistake I feel Moore has made over and over is to say he's making non-fiction. If he'd just put himself in the company of satirists like Stephen Colbert, Trey Parker and Sacha Baron Cohen, people would allow him his dramatic license and "truthiness". Then again, some folks get pissy about "Borat" too, so… ]
(18 Jun) Freddy Got Fingered (2001, Tom Green) [ review ] 89
(19 Jun) Die Hard (1988, John McTiernan) [ review ] 94
(21 Jun) Live Free or Die Hard (2007, Len Wiseman) [ review ] 43
(21 Jun) Ratatouille (2007, Brad Bird) 85
[ Not only has Pixar managed to make rats adorable in this flick, they also got away with putting them in a restaurant kitchen, the last place we would usually want to find them! Voiced by Patton Oswalt, the titular rodent only wants to cook, but it's hard out there for a gourmet rat… Until he teams with a dishwasher who becomes his front so he can become the best chef in Paris! "Ratatouille" is a wonderfully entertaining movie which proves that cartoons don't have to be only for kids, they can be one of the most sensational forms of expression there. With an amazing attention to detail, Brad Bird has created an eye-popping film which makes brilliant use of light, textures and virtual camerawork. The character design and the voice performances are great as well and most of all, the story is original, unpredictable, funny and moving, too, with its theme about how one can transcend his nature and become what he dreams of, no matter what his origins are. Oh, and that epiphany near the end by the critic character voiced by Peter O'Toole? Brought me to tears. ]
(23 Jun) Finding Nemo (2003, Andrew Stanton) [ review ] 86
(24 Jun) Scarface (1932, Howard Hawks) 82
[ Part of the Directors Series ]
(25 Jun) The Fountain (2006, Darren Aranofsky) [ review ] 94
(26 Jun) Eagle vs Shark (2007, Taika Waititi) 63
[ Bien que possédant toutes les caractéristiques du film indépendant américain typique (on pourrait le décrire comme une histoire d'amour entre le personnage de Miranda July dans Me and You and Everyone We Know et celui de Jon Heder dans Napoleon Dynamite), Eagle vs Shark est en fait l'oeuvre d'un cinéaste néo-zélandais, Taika Waititi. Après être devenus amants lors d'une fête costumée, une jeune femme timide (Loren Horseley) et un nerd fini (Jermaine Clement) se rendent dans la ville natale de ce dernier afin qu'il puisse se venger de la brute qui a ruiné son adolescence. Avec ses personnages ringards, sa direction artistique volontairement kitsch et son ton oscillant constamment entre sincérité et moquerie, Eagle vs Shark agacera certains, mais plaira aux amateurs de comédies excentriques. ]
(27 Jun) Bled Number One (2007, Rabah Ameur-Zaïmeche) 16
[ Reviewed for Voir ]
(27 Jun) End of the Line (2007, Maurice Devereaux) 75
[ Read my interview with Devereaux ]
(28 Jun) Transformers (2007, Michael Bay) [ review ] 58
(29 Jun) 13 Beloved (2006, Chookiat Sakweerakul) 70
[ Annoncé par Mitch Davis comme LE film à voir au festival cette année, 13 Beloved, du Thaïlandais Chookiat Sakweerakul, ne déçoit pas. Dans l'esprit de The Game, de Fincher, mais en beaucoup plus tordu, cette comédie noire présente un employé de bureau apparemment ordinaire qui, lorsqu'il est sélectionné comme candidat d'un jeu de télé-réalité, se révèle prêt à briser tous les tabous. Devant la promesse de considérables prix en argent s'il passe 13 épreuves, l'homme tue une mouche, fait pleurer des enfants, puis continue d'accomplir des tâches de plus en plus grotesques, ce qui donne lieu à plusieurs scènes d'anthologie. ]
(30 Jun) A Bloody Aria (2006, Won Shin-yeon) 57
[ Le Coréen Won Shin-yeon nous offre A Bloody Aria, un thriller qui démarre de façon classique, alors qu'un professeur et une étudiante font un détour malheureux dans un coin reculé et deviennent les proies d'individus sordides. Mais après une mise en place laborieuse, la tension explose, alors que le principal antagoniste, brillamment interprété par un Lee Mun-Sik tour à tour jovial et terrifiant, s'avère encore plus dérangé qu'on ne le croyait. Dans la même lancée, le film se révèle être une réflexion déconcertante sur le cercle de la violence, avec des pointes d'humour des plus virulentes. ]
(1 May) Away From Her (2006, Sarah Polley)
87
[ Read my
interview with Sarah Polley
]
(2 May) Lucky You (2007, Curtis Hanson) [ review ] 61
(3 May) Midnight Movies (2005, Stuart Samuels) 65
[ Read my interview with Stuart Samuels in Voir ]
(4 May) Spider-Man 3 (2007, Sam Raimi) 91
[ Part of the Directors Series ]
(7 May) The Ex (2007, Jesse Peretz) 19
[ Reviewed for Voir ]
(9 May) Georgia Rule (2007, Garry Marshall) [ review ] 27
(13 May) Les anges exterminateurs (2007, Jean-Claude Brisseau) 70
[ Reviewed for Voir ]
(15 May) Gilmore Girls – Series Finale (2007)
[ Gawd, I haven't cried this hard since… well, the "Six Feet Under" finale. There's something about spending years and years with characters you love, they become as close as friends and family and when you have to say goodbye… A perfect ending to a near-perfect series. ]
(16 May) Shrek the Third (2007, Chris Miller) 34
[ Reviewed for Voir ]
(17 May) La cité interdite AKA La citadelle assiégée (2007, Philippe Calderon) 79
[ Reviewed for Voir ]


(18 May) catch and release (2007, Susannah Grant) 12
[ Where's my Ben at? Here's a flick that stars both Affleck's wife, Jennifer Garner, and his hetero lifemate, one Kevin Smith. But you know what? Ben wasn't missing out on anything. I love Garner and Smith, and Timothy Olyphant, too, but they should all be embarrassed to be in this. I wasn't expecting greatness or anything, just a nice little chick flick, but this is an incomprehensibly misguided movie. The premise on its own (girl moves in with her late fiancé's best friends, falls in love with one of them, etc.) is kinda odd, the storytelling is way off, the attempts at humor fall flat, none of the characters register as more than types, the direction is sluggish and cloying… This sucks, sir. Heck, they bring in Juliette Lewis halfway through, does that liven things up? Nope, still sucks. ]
(22 May) Paris, je t'aime (2007, 18 directors) 60
[ Reviewed for Voir ]
(25 May) Breaking and Entering (2006, Anthony Minghella) 52
[ Part of the Directors Series ]
(28 May) once (2007, John Carney) 76
[ Reviewed for Voir ]
(30 May) Iraq in Fragments (2006, James Longley) 33
[ Reviewed for Voir ]
(31 May) Boy Culture (2007, Q. Allan Brocka) 65
[ Reviewed for Voir ]
(31 May) Knocked Up (2007, Judd Apatow) [ review ] 69
(2 Apr) Firehouse Dog (2007, Todd Holland)
17
[
"How's the dog?"
"Smells like rotten tomatoes, but he'll live."
Gotta love when a movie provides its own review. Dog does stunts, burps, snores, farts, pisses, poops in the stew, wins everyone's heart, etc. Pretty rotten all right, but if you like that kind of crap it's okay, I guess. ]
(3 Apr) GRINDHOUSE [ review ]
Planet Terror (2007, Robert Rodriguez) 49
Death Proof (2007, Quentin Tarantino) 93
(5 Apr) South Park 11.5 (2007, Trey Parker)
[ STAN- "My dad's in a rabbit-worshipping cult called the Hare Club For Men, they protect the secret of Easter but before they said what it was, they were attacked by ninjas and put me in charge of Snowball!" ]
(6 Apr) Pro-Life (2006, John Carpenter) 65
[ Part of the Directors Series ]
(8 Apr) GRINDHOUSE [ review ]
Planet Terror (2007, Robert Rodriguez) 49
Death Proof (2007, Quentin Tarantino) 93
(10 Apr) Pathfinder (2007, Marcus Nispel) [ review ] 78
(12 Apr) Hot Fuzz (2007, Edgar Wright) [ review ] 90
(13 Apr) South Park 11.6 (2007, Trey Parker)
[ Mrs. GARRISON – "Oh yeah! Scissor me, Xerxes!" ]


(15 Apr) In the Land of Women (2007, Jonathan Kasdan) 44
[ Suivant les traces de son père Lawrence (The Big Chill) et de son frère Jake (Zero Effect), c'est maintenant au tour de Jonathan Kasdan de s'essayer à la réalisation. Comme beaucoup de premiers films, In the Land of Women est clairement une oeuvre très personnelle, et par le fait même plutôt maladroite. Kasdan met beaucoup de coeur dans chaque scène et l'on sent toute l'affection qu'il a pour ses personnages. Cependant, ces derniers semblent à la merci des caprices de son scénario, lequel ne réussit pas à les faire interagir avec naturel. Carter Webb (Adam Brody, immensément charmant en alter ego de Kasdan) est un scénariste de Los Angeles qui, après une rupture amoureuse difficile, s'envole vers le Michigan pour être hébergé chez sa grand-mère (Olympia Dukakis, amusante en vieille sénile). Carter espère pouvoir s'y éclaircir les idées, mais il se retrouve bien vite curieusement happé par les joies et les drames d'une voisine de sa mamie, une mère de famille (Meg Ryan, convaincante dans un rôle difficile) à qui on a récemment diagnostiqué un cancer du sein. En plus de se lier d'amitié avec elle, le jeune homme se voit aussi plongé dans les émois adolescents de la fille de cette dernière (Kristen Stewart, à la fois forte et vulnérable). La prémisse même du film a quelque chose d'artificiel, de par la façon dont elle juxtapose trop commodément le protagoniste à trois femmes de générations différentes, pour chacune desquelles il sera une présence décisive en temps de crise. On a peine à croire que toutes se confient immédiatement à lui, dévoilant sans aucune pudeur leurs états d'âme. Un auteur plus chevronné aurait pu développer le récit avec davantage de soin et en faire oublier les mécanismes. Ce n'est toutefois pas le cas dans In the Land of Women, où les diverses révélations mélodramatiques sont introduites abruptement et avec peu de subtilité. Il en résulte un film bavard, larmoyant et un brin moralisateur; on se croirait presque devant une émission d'Oprah. Il aurait été préférable que Kasdan laisse vivre ses personnages plutôt que de les forcer à constamment se heurter émotionnellement les uns aux autres. Malgré tout, par moments, on ne peut qu'être touché par la sincérité des intentions du cinéaste, même si celle-ci est mal canalisée. ]
(16 Apr) Hot Fuzz (2007, Edgar Wright) [ review ] 90
(16 Apr) Ma nuit chez Maud (1969, Eric Rohmer) 87
[ The opening scene, a long-winded church service (is there any other kind?), is pretty tedious, especially if you're a lapsed Catholic like myself. Still, the beauty of Marie-Christine Barrault and of the B&W cinematography does grab your attention. Then there's a bit of driving around, this and that, and we start to wonder where this is going. And then it happens: Jean-Louis Trintignant runs into an old friend and they start talking about Pascal and "mathematical hope" (i.e. potential gain divided by probability). The ideas explored are so potent, they might as well change your life. It gets even better when they get to Maud's, where they keep discussing Pascal, religion and love. Heady stuff, yes, but with playful turns and a real sense of humanity and warmth. Like, you're deep in thought and then hop, Françoise Fabian slips into something more comfortable and jumps into bed. Sexy philosophy? You better believe it. Then it's back out and around, unto snowy hills, cold lips meeting cold lips, icy roads and… Again, we wonder where this is going, but in a good way. Trintignant's character finally has a decision to make, it's not just talk anymore, and we honestly have no clue what/who he will choose. And then comes the twist, which is actually only suggested, never fully revealed out loud. As Wilder or Lubitsch once said, "Let the audience add up two plus two. They'll love you forever." ]
(17 Apr) Vacancy (2007, Nimród Antal) 32
[ Reviewed for Voir ]
(17 Apr) South Park 11.7 (2007, Trey Parker)
[ CARTMAN – "I jump the homeless professionally. If you can get me a skateboard, I'll try to jump that homeless crowd and save those people." ]
(19 Apr) Waitress (2007, Adrienne Shelly) 65
[ Reviewed for Voir ]
(21 Apr) When We Were Kings (1996, Leon Gast) 91
[ "Only last week I murdered a rock,
Injured a stone, hospitalized a brick
I'm so mean I make medicine sick!"
What a great, great, great film. Why watch "Ali" when you can watch the real thing? Will Smith was pretty good as the boxing legend, but there's only one true Ali, man. And more than three decades down the line, I don't think there's been another event blending as fascinatingly sport, politics and pop culture as the Rumble in the Jungle. Because it's not just Ali (though that would have been awesome enough already) and Foreman going at it, you've also got the whole craziness of Zaire and dictator Mobutu, plus live performances from the likes of James Brown and B.B. King. And back to the boxing, I think that kind of meaningless violence is pretty stupid in itself, but when you've got effin' Norman Mailer philosophising about the fight you're watching, you "get" it. ]
(23 Apr) Saint-Jacques… La Mecque (2007, Coline Serreau) 46
[ Reviewed for Voir ]
(24 Apr) The Condemned (2007, Scott Wiper) [ review ] 22
(25 Apr) The Lost Weekend (1945, Billy Wilder) 80
[ 1945's Best Picture Oscar winner is an old-fashioned but nonetheless affecting portrait of alcoholism, desperation and self-destruction. It's very melodramatic, writerly and "actorly", too, and it's hardly as raw a take on the subject as something like "Leaving Las Vegas". But it still cuts through and gets to what feels like a truly honest place. As in every Wilder film, the storytelling is tight and the direction is masterful. Wilder manages to build suspense numerous times out of whether or not the guy will take a drink, the moody B&W cinematography adds to the sombre, almost noir-like feel of the piece, the use of theremin gives eerie echoes to the score and there are some truly clever visual compositions revolving around bottles and shot glasses. This isn't quite "Double Indemnity" or "Sunset Blvd.", but it's a solid pit stop between the two. ]
(27 Apr) The Chronicles of Riddick (2004, David Twohy) 37
[ Somehow never saw this until now, even though I loved "Pitch Black". I got the vibe that this sequel wasn't another mean little sci-fi action flick, and I was mostly right. Much more exposition here, much more complicated universes and mythologies, it's almost like a "Star Wars" prequel. Riddick still kicks ass – I'd forgotten how badass Vin Diesel's voice and general presence was – alas, a cool antihero does not make a good flick. It's fun enough when there's a chase or a battle or something but, to get to those, you have to sit through a lot of dull dialogue, stiff acting and a lot of nonsense about peripheral characters we don't care about. ]
(28 Apr) Predator (1987, John McTiernan) [ review ] 92
(28 Apr) The Pervert's Guide to Cinema (part two) (2007, Sophie Fiennes) 69
[ Reviewed for Voir ]
(29 Apr) The Invisible (2007, David S. Goyer) 7
[ This unfathomable hybrid between "Ghost", "The Sixth Sense" and "Brick" is heinously bad. Pretentious, inconsistent, contrived, dumb and boring, the movie features one of the most obnoxious gallery of characters ever assembled. Between the whiny invisible dude, the boo-hoo-I-had-a-bad-childhood-so-I'll-wear-a-black-tuque-and-bully-my-way-through-life chick, the ridiculously incompetent cops, the poseur thugs and the hysterical mother, there isn't a soul here worth saving. ]
(1 Mar) The Last Mimzy (2007, Robert Shaye)
23
[ Read my interview with Shaye in
Voir
]
(2 Mar) Zodiac (2007, David Fincher) [ review ] 59
(5 Mar) I Think I Love My Wife (2007, Chris Rock) 41
[ Vite, on produit un remake hollywoodien de "L'Amour l'après-midi" d'Éric Rohmer : à qui faites-vous appel pour scénariser, réaliser et jouer dans cette nouvelle version de l'histoire d'un père de famille qui contemple la possibilité de tromper sa femme? Chris Rock, bien sûr! La parenté entre le légendaire cinéaste français et celui qui nous a donné "Head of State" est évidente, non? Et lorsque vous regardez un conte moral de Rohmer, ne trouvez-vous pas que ça manque d'humour racial, de vulgarité et de gags de Viagra? Trêve de sarcasme, même si on passe outre l'incongruité de l'entreprise, "I Think I Love My Wife" souffre de la fadeur de la réalisation et des capacités dramatiques limitées de Rock, plus à l'aise en mode comique. ]
(5 Mar) 300 (2007, Zack Snyder) 68
[ 480 B.C. Leonidas and the 300 bravest Spartans are about to take on the army of Xerses, which is a million man strong. It's a suicide mission, but they fully intend to give the Persian one hell of a fight before they die. Or, in the words of William Wallace: "They may take our lives, but they'll never take our freedooooooom!" Because let's admit it, it's impossible not to think of "Braveheart" while watching "300". Even though the Battle of Thermopylae took place many centuries before the First War of Scottish Independence, in movie terms, there's no doubt that Mel Gibson's film influenced Zack Snyder's. Alas, whereas Gibson, in all his marvellous madness, really orchestrated epic mayhem involving thousands of extras clashing iron and making (fake) blood spurt, Snyder mostly relies on CGI and we can tell. The action sequences are still exciting, but they make us feel more like we're in a videogame than on a battleground. At its best when it contents itself with recreating the imagery and the gallows humor of Frank Miller's graphic novel, "300" suffers when it cuts away to unnecessary, dull scenes involving the Spartan queen and the Senate. During those, we just long to return to Leonidas, who's played with brash bravado by a bigger than life Gerald Butler, who might be the best thing about the whole thing. ]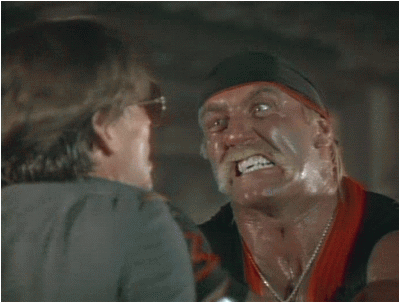 (6 Mar) No Holds Barred (1989, Thomas J. Wright) 35
[ Whoa, this is so hilariously dumb, macho and ridiculous, it makes "Road House" look like "Casablanca"; it makes "Rocky IV" look like "Raging Bull"! Hulk Hogan, man… ]
(12 Mar) la Môme (2007, Olivier Dahan) 32
[ La vie en rose? La vie morose is more like it. ]
(13 Mar) Fido (2007, Andrew Currie) 50
[ George A. Romero does Douglas Sirk, or is it the other way around? The juxtaposition of 1950s Americana and flesh-eating zombies is amusing, but this is one of those movies that just keep going back to the same high-concept gag over and over, with diminishing returns. ]
(15 Mar) Échangistes (2007, Simon Boisvert) 66
[ Pendant que certains désespèrent en attendant l'aval des institutions, de plus en plus de cinéastes prennent le pari de se financer eux-mêmes et de tourner envers et contre tous – Simon Boisvert en est un. Pourtant, malgré son budget modeste et ses acteurs peu connus, Échangistes est un film accessible et divertissant. Comme le titre l'annonce sans équivoque, le thème est ici l'échangisme, l'un des derniers tabous de notre société. En dépit du sujet et du fait que l'un des personnages est un voyeur (Sylvain Latendresse), le film lui-même ne fait pas dans le voyeurisme, préférant être suggestif qu'explicite. Échangistes présente des personnages bien définis, qui évoluent et révèlent de nouvelles facettes au cours du film, allant au-delà des stéréotypes. On pense notamment au couple où c'est le mari (Erwin Weche) qui pousse son épouse (Kina Beauchemin) à devenir échangiste, mais c'est finalement lui qui devient jaloux. Si tous les personnages possèdent certaines nuances, l'impression dominante est quand même que Boisvert est dur avec les hommes, alors qu'il a de l'empathie pour les femmes, particulièrement celle interprétée par Diana Lewis. ]


(16 Mar) À vos marques… Party! (2007, Frédérick D'Amours) 64
[ Maintenant que ce premier film d'ados québécois arrive sur nos écrans, nous nous demandons pourquoi personne n'y a pensé auparavant. Certes, nous avons souvent pu voir des adolescents sur nos écrans, de Sonatine de Micheline Lanctôt à La Rage de l'ange de Dan Bigras, mais le jeune public avait sans doute hâte de voir un reflet moins attristant de ce qu'il vit. Après tout, être adolescent ne se résume pas qu'au suicide, aux gangs de rue et à la drogue! À l'école secondaire, chaque jour amène son lot de petites joutes sociales qui paraissent si cruciales quand on est plongé dedans. Il y a ce mélange d'envie et de mépris qu'on ressent pour la clique populaire (dominée ici par l'aguichante Catherine de Léan), les vrais amis (Mariloup Wolfe, Alexandre Despatie) qui n'en ont rien à faire qu'on ne soit pas considéré cool par la dite clique, les adultes (Sylvie Moreau, Hélène Bourgeois-Leclerc) qui nous embêtent, mais qui ne veulent généralement que notre bien. Et puis, il y a les premiers émois romantiques, les papillons dans le ventre quand on la ou le croise entre les casiers, le courage qu'on doit prendre à deux mains (moites) pour lui demander de nous accompagner au bal de finissants… À vos marques… Party! est un film sans prétention, si ce n'est celle de fidèlement communiquer comment on se sent à cet âge. Avec ses images ensoleillées, son montage vif et sa musique mur à mur, ce premier film de Frédérick d'Amours n'a pas grand-chose à envier à ses équivalents américains. Surtout que le scénario de Caroline Héroux et Martine Pagé, tout en restant léger, étoffe un peu la formule éprouvée de la fille faussement laide (Mélissa Desormeaux-Poulin) qui gagne le coeur du plus beau mec de l'école (Jason Roy Léveillée) en donnant des préoccupations supplémentaires aux personnages. Ainsi, l'héroïne du film s'épanouit non seulement en s'ouvrant à l'amour, mais aussi à travers sa passion pour la natation et en se réconciliant avec l'idée que ses parents (Guy Jodoin et Marina Orsini) aient divorcé. Du moins qu'on puisse passer par-dessus les inévitables clichés du genre, le fait que la majorité des acteurs ne soient plus ados depuis longtemps et le placement de produits (des serviettes Super Écran, vraiment?), À vos marques… Party! s'avère drôle et touchant. ]
(20 Mar) Pride (2007, Sunu Gonera) 71
[ Sport movies: you've seen one, you've seen them all. You got your determined coach and his ragtag team, then the proven three-act structure (1- humiliation, 2- progress, 3- minor setback followed by victory, moral or otherwise). Nothing to see here, move along… Or not. Because when this formula is well executed, it's unbelievably effective, moving and inspirational. Sport as a metaphor for life? Works for me. "Pride" has got all that going for it, plus added emotional weight anchored in the Afro-American experience, great period reconstitution ('70s clothes, afros, etc.), an awesome funk & soul soundtrack, wonderfully textured cinematography and another imposing, soulful performance from the amazing Terrence Howard. ]
(21 Mar) Requiem pour un beau sans-coeur (1992, Robert Morin) 90
[ What a bloody great flick. Think of a ruthless gangster movie, say, "GoodFellas", but with much more lowlife, street-level, heck, down in the gutter criminals. Plus, make it more intimate, the character study of a sociopath – think "Taxi Driver", if we're to stick to the Scorsese canon. But we can't do that, because there's no way I can avoid bringing up "Rashomon", as Morin has that multiple versions of the same story thing going on. Except that he doesn't go for just 3 but 8 different points of view, and most of the film is in actual POV shots from each of those characters: a young boy, a cop, a tabloid reporter, an old lady, a lawyer, a stripper, a factory girl, a henchman… And finally, the man who's at the centre of all their lives for the couple of days over which the movie takes place, a recently escaped jailbird masterfully played by Gildor Roy. Gripping and thought-provoking, "Requiem" is one of many Morin pictures that wonderfully plays around with the boundaries between film and video, fiction and documentary, comedy and tragedy. Plus there's a must-see cameo from a young Grégory Charles! ]
(22 Mar) The 13th Warrior (1999, John McTiernan) 57 [ first viewing: 29 ]
[ When I first saw the flick 5 years ago, I dismissed it as a "Muddy, dark, mostly dull story about Vikings, cannibals and crap." All that still applies but, upon this Jean Carlo-prompted second viewing, I gotta admit I somewhat underrated it. Once you know you won't get much of a story or character development, you can sit back and enjoy the quality of the craftsmanship, the basic coolness of the concept (Arab dude + Norsemen vs. bear-like "eaters of the dead") and the badass, gory action. ]
(26 Mar) The Lookout (2007, Scott Frank) 80
[ Reviewed for Voir ]
(28 Mar) Les cavaliers de la canette (2006, Louis Champagne) 50
[ Reviewed for Voir ]
(28 Mar) Fast Food Nation (2006, Richard Linklater) 42
[ Part of the Directors Series ]
(31 Mar) Are We Done Yet? (2007, Steve Carr) 9
[ Or: A Further Instalment In How Ice Cube Went From N.W.A. To N. Without Attitude. Seriously, man, how can you go from gangsta rapper to modern-day Chevy Chase? Dignity, always dignity. ]
(4 Feb) Babel (2006, Alejandro González Iñárritu) 90
[ Part of the Directors Series ]
(6 Feb) Animal (2007, Roselyne Bosch) 58
[ Reviewed for Voir ]
(7 Feb) Norbit (2007, Brian Robbins) [ review ] 11
(8 Feb) Fired! (2007, Annabelle Gurwitch) 43
[ Reviewed for Voir ]

(10 Feb) Bridge to Terabithia (2007, Gabor Csupo) 29
[ Reviewed for Voir ]
(14 Feb) Breach (2007, Billy Ray) [ review ] 67
(15 Feb) Ghost Rider (2007, Mark Steven Johnson) [ review ] 55
(16 Feb) Black Snake Moan (2007, Craig Brewer) [ review ] 90
If you're wondering why I'm reviewing no movies this week, it's because I'm on the Rendez-vous du cinéma québécois shorts jury and I've been trying to get through the 70-some titles I have to watch by Saturday!


UPDATED (02/25/07):
[ We gave the award for Best Short (Fiction) to Mathieu Fontaine's hilariously original sci-fi spoof "Terreur au 3918", with a Special Mention to Mathieu Grondin's cutting satire of the audition process "Screen Test: Karen Elkin". Other favorites of mine were the lovely "L'heure du thé", the visually stunning "Les eaux mortes", the gripping and funny "Sur la ligne", the surprising "West Coast Québec" and the simple but curiously affecting "L'éducation nautique". Of interest as well: "Neuf", "Les jours", "The Ecstasy Note", "L'autocar" and "Bande de câlisses", among others. Naturally, I also hated my share of titles, but the less said about those the better! ]
(22 Feb) Nos voisins Dhantsu (2007, Alain Chicoine) funny ha ha
[ Read my interview with Réal Béland and Stéphane Lefebvre in Voir ]
(27 Feb) Cashback (2007, Sean Ellis) 77
[ Read my interview with Ellis and actor Sean Biggerstaff in Voir ]
(1 Jan) Astérix & Obélix: Mission Cléôpatre (2002, Alain Chabat) [ review ] 70
(2 Jan) Superstar: The Karen Carpenter Story (1987, Todd Haynes) 67
[ Whoa, this is seriously fucked up! Shot on the cheap with Barbie dolls re-enacting the real-life tragic story of The Carpenters singer's battle with anorexia, the movie strangely but effectively blends wholesome pop music, melodramatic documentary narration and Cronenberg-style creepiness. And did I mention that all the characters are played by Barbie dolls? ]
(3 Jan) Angel-A (2006, Luc Besson) [ review ] 81
(3 Jan) Le Dernier combat (1983, Luc Besson) 66
(3 Jan) Subway (1985, Luc Besson) 69
(4 Jan) Arthur et les Minimoys (2007, Luc Besson) 62
(7 Jan) Le Grand bleu (1988, Luc Besson) 75
[ Part of the Directors Series ]
(8 Jan) Jean-Philippe (2007, Laurent Tuel) 43
[ Reviewed for Voir ]

(9 Jan) Miss Potter (2006, Chris Noonan) 57
[ Reviewed for Voir ]
(10 Jan) Venus (2007, Roger Michell) 38
[ Reviewed for Voir ]
(10 Jan) Stomp the Yard (2007, Sylvain White) [ review ] 24
(11 Jan) Nikita (1990, Luc Besson) 48
[ Part of the Directors Series ]
(12 Jan) Alpha Dog (2007, Nick Cassavetes) 70
[ A criminal drama involving young folks, this is like "Brick" minus the film noir pastiche (but with a cameo from Lukas "The Pin" Haas), crossed with "Bully" minus Larry Clark's voyeuristic bullshit, with a strong dose of "Scarface"/"Reservoir Dogs"-style excess for good measure. The plot, based on actual events, is a bit too loose, but that's actually a blessing in disguise because while it defuses the suspense, it allows for a lot of hanging out and partying scenes (plus a sexy game of skinny-dipping Marco Polo!) during which the large cast gets to interact in all kinds of engrossing ways. All the actors are great, but I particularly enjoyed Emile Hirsh ("The Girl Next Door"), who confirms that he's a goddamn movie star, the wonderfully over the top Ben Foster (Russell from "Six Feet Under" – watch for his bar fight!) and Justin Timberlake (as a muscular, tattooed, pot-smoking thug!), who seems like questionable stunt casting at first, but ends up stealing the movie. "Alpha Dog" is a bit uneven, but for every misguided touch (the less said about Sharon Stone's fat make-up faux documentary monologue the better), you got something that truly works (every moment Bruce Willis and Harry Dean Stanton's older gangsters are on screen is gold). ]
(15 Jan) Pan's Labyrinth (2006, Guillermo del Toro) [ review ] 94
(16 Jan) The Hitcher (2007, Dave Meyers) 53
[ Reviewed for Voir ]
(17 Jan) The Devil's Backbone (2001, Guillermo del Toro) 93
[ "What is a ghost? A tragedy condemned to repeat itself time and again? An instant of pain, perhaps. Something dead which still seems to be alive. An emotion suspended in time. Like a blurred photograph. Like an insect trapped in amber."
First off, I was surprised by the golden hues of the cinematography and the desert location, expecting this to be as oppressively dark and dank as the usual ghost stories. The ghost itself is a wonderful creation, both for the amazing special effects work and the more sad than scary context of the haunting. Beyond the ghost, there are great touches all around: the dud bomb in the yard, the doctor selling "limbo water", the headmistress' fake leg, the asshole guard looking for treasure, the kids' love of comic books… Speaking of which, del Toro truly has a way with children, being true to their feelings without idealizing them or making them into stupid movie brats. Set in an orphanage near the end of the Spanish Civil War, the film masterfully juggles fantasy/horror, political and personal drama and comes up with a powerful, multi-layered allegory of Resistance.
"You think that it'll all work out if we behave?"
"They have the rifle. They're bigger than us, and stronger."
"Yes. But there's more of us," ]
(17 Jan) The Good German (2006, Steven Soderbergh) 77
[ Part of the Directors Series ]

(18 Jan) Enfermés dehors (2007, Albert Dupontel) 55
[ Enfermés dehors suit les péripéties de Roland (Dupontel), un clochard sniffeux de colle dont l'existence est chamboulée lorsqu'il trouve un uniforme de policier. Il décide alors de rétablir une certaine justice pour ses confrères sans-abri, que la police harcèle généralement plus qu'elle les aide. Un pauvre qui vole un fruit est traité comme un criminel, tandis qu'un banquier véreux (Nicolas Marie) peut s'enrichir frauduleusement en toute impunité. Si la satire sociale est un peu trop caricaturale et éparpillée, la débilité assumée de l'humour et le style visuel survolté compensent au moins en partie, dépendamment de l'affection qu'on a pour le slapstick. Dupontel passe la majeure partie du film à se casser la gueule et à être balancé dans tous les sens, tel un Wile E. Coyote humain ]
(22-23 Jan) Extras (2005, Ricky Gervais & Stephen Merchant) [ review ] 70
(25 Jan) because I said so (2007, Michael Lehmann) [ review ] 4
(25 Jan) Little Children (2006, Todd Field) [ review ] 82
(26 Jan) The Recommendations (2005, Owen/Perlmutter/Slutsky) 68
[ The local luminaries from the Automatic Vaudeville collective are the masters of the pastiche. Their sense of humor is often so deadpan that you can almost miss it – if you didn't know that this documentary about an alleged case of intellectual fraud in the world of Can-lit was fake, you might think this was a serious piece. Well, some of it is pretty damn silly, but so are a lot of pseudo-artists.! "The Recommendations" is infinitely better than the somewhat thematically similar "Rechercher Victor Pellerin", because it's much less muddy and self-indulgent. I particularly loved the performances, from Mark Slutsky as the deranged supposed victim of plagiarism to Seth Owen as a sleazy entrepreneur, Dan Perlmutter as a beloved children's author who unwittingly gets curbed (!) and even pony up!'s Laura Wills as an experienced yoga…ist. ]
(27 Jan) Clerks II (2006, Kevin Smith) [ review ] 91

(29 Jan) Ma fille mon ange (2007, Alexis Durand-Brault) 33
[ Reviewed for Voir ]
(30 Jan) Children of Men (2006, Alfonso Cuarón) [ review ] 92
(3 Dec) Unaccompanied Minors (2006, Paul Feig)
33
[ Lewis Black and Wilmer Valderrama embarrass themselves as the bumbling grown-ups constantly being outran and humiliated by a bunch of brats stuck in an airport on Christmas eve in this oddball cross between "Home Alone" (cartoonish holiday romp) and "The Breakfast Club" (for the way it groups together a brain, an athlete, a basket case, princess and a criminal, give or take an archetype). Still, this is harmless enough entertainment (you know, for kids), and young Tyler James Williams is actually pretty fun to watch. ]
(3 Dec) National Lampoon's Van Wilder 2 – The Rise of Taj (2006, Mort Nathan) 17
[ A sequel to Van Wilder without Van Wilder? Not that I missed Ryan Reynolds, but it just underlines how pointless and botched a venture this is. Kal Penn was great in "Harold and Kumar", but his charm and comic potential are wasted in this laugh-free knockoff of "Revenge of the Nerds". Not worth your time, unless you're really desperate to see half a dozen boobies in the midst of an endless barrage of half-assed attempts at gross-out humor and inconsequential commentary on class and race divisions. ]
(4 Dec) Roméo & Juliette (2006, Yves Desgagnés) 0
"La guerre des motards a encore fait exploser un enfant, sacrament!"
"Roméo y pleure parce qu'il est capable d'être vrai."
"I need sugar… pour atterir."
"Évite de te pencher trop souvent, t'es pas ici pour montrer tes petits seins."
"Cours, Roméo, coooouuuuuurs!"
[ Reviewed for Voir ]
(5 Dec) An Inconvenient Truth (2006, Davis Guggenheim) 84
[ An amazing piece of documentary filmmaking which conveys Al Gore's obviously sincere concern for the environment and his desire to prevent the irrevocable consequences of global warming to get any worse than they already are. Both provocative and entertaining, funny even, the movie truly makes you understand what's at stakes exactly, but without being too didactic. A must-see. ]
(10 Dec) Apocalypto (2006, Mel Gibson) [ review ] 91
(12 Dec) Rocky Balboa (2006, Sylvester Stallone) [ review ] 72
(13 Dec) Night at the Museum (2006, Shawn Levy) [ review ] 77
(16 Dec) The Last of the Mohicans (1992, Michael Mann) 40
[ It starts out all chaotic, throwing you in the middle of the colonial wars with little indication of where your loyalties are supposed to fall between the French, British and various Indian nations. Lots of running and killing, and eventually we gather that Daniel Day-Lewis' trapper character aims to protect Madeleine Stowe's colonel's daughter… It's still pretty confusing, which is what war must feel like, I guess, but it doesn't make for great storytelling, in my opinion. The Day-Lewis/Stowe romance is pretty random, too. I'll give Jean Carlo as much, the last 10-15 minutes are pretty badass/lyrical but overall, this is hardly a great film. ]
(17 Dec) La Guerre des Tuques (1984, André Melançon) [ review ] 71
(17 Dec) Children of Men (2006, Alfonso Cuarón) [ review ] 92
(18 Dec) Braveheart (1995, Mel Gibson) [ review ] 90
(21 Dec) The Big Lebowski (1998, the Coen brothers) [ review ] 93
(26 Dec) Sólo con tu pareja (1991, Alfonso Cuarón) 38
(26 Dec) A Little Princess (1995, Alfonso Cuarón) 80
(27 Dec) Great Expectations (1998, Alfonso Cuarón) 76
[ Part of the Directors Series ]

(27 Dec) The Godfather (1972, Francis Ford Coppola) [ review ] 95
(29 Dec) Comment ma mère accoucha de moi durant sa ménopause (2003, Sébastien Rose) 51
[ A treatise on the male identity in a post-feminist world, it revolves around a skirt-chasing man-child trying to deal with his overbearing mother (Micheline Lanctôt), sister (Sylvie Moreau) and shrink/lover (Anne-Marie Cadieux). The shared sex lives between family members is a surprising, interesting twist, but the story feels increasingly disconnected, with overwritten dialogue and characters that are less like people than plot devices that the filmmaker uses to prove his point. Still, the film is quite amusing and sexy (Lucie Laurier in a thong? Yes, please!) and while Paul Ahmarani is not quite convincing as a supposedly irresistible seducer, he does make for an enjoyably offbeat lead.
Note: this is a repost of a blurb written in September 2003 when I first saw the film. Why am I rewatching a film I don't even like that much, you ask? That's my curious habit of lazily rolling with the movies on late-night television for you.]
(2 Nov) American Hardcore (2006, Paul Rachman) 55
[ Reviewed for Voir ]
(2 Nov) South Park 10.12 (2006, Trey Parker) 64
[ 2546 OTTER – "This is the dawning of the sea otter! Know this, timechild: I shall smash your skull like a clam on my tummy!" ]
(6 Nov) Harsh Times (2006, David Ayer) 70
[ De deux choses l'une: soit Christian Bale a d'inépuisables zones d'ombre en lui, soit c'est le meilleur acteur du monde. On voudrait le connaître dans la vraie vie pour s'assurer qu'il se porte bien et qu'il n'est que très doué pour feindre la démence! Sérieusement, quand est-ce, la dernière fois où il tenu le rôle de quelqu'un avec qui on voudrait être ami? Dans Harsh Times, Bale interprète Jim Davis, un American Psycho qui fait des siennes dans le centre-sud de Los Angeles plutôt que sur Wall Street. Vétéran de l'armée américaine ayant combattu en Iraq, Davis s'ajuste mal à son retour dans la vie civile. Sans emploi, il passe son temps à errer, boire et fumer avec son pote Mike (Freddy Rodriguez), lui-même chômeur au grand dam de sa petite amie avocate (Eva Longoria). Pendant quelques jours, nous suivons les deux jeunes hommes alors qu'ils tergiversent entre le désir de se responsabiliser et la tentation de continuer d'agir comme des adolescents attardés. Mais malgré leurs bonnes intentions, la violence de leur environnement et les démons qui hantent Jim risquent tôt ou tard de leur exploser au visage. Le scénariste David Ayer réalise ici son premier long métrage en ne s'éloignant pas de son univers personnel, qui présente une vision à la fois réaliste et caricaturale des rues dangereuses de South Central où il a grandi. Si cette approche convient à un film d'action sans prétention comme The Fast and the Furious, elle cadre moins bien dans un drame urbain supposément sérieux comme Training Day. Se positionnant quelque part entre les deux,
Harsh Times carbure à l'excès, mais ne déraille pas malgré tout, en grande partie grâce à l'intensité inébranlable de Christian Bale. Joué par un acteur plus limité, l'ex-soldat qui pète les plombs aurait facilement pu avoir l'air d'un ridicule ersatz de Rambo, mais Bale est si convaincant qu'on parvient à croire au personnage. De plus, un certain commentaire politique se dessine, alors qu'on voit comment le département de la Défense ferme les yeux, voire encourage les individus ayant des comportements antisociaux pouvant être utilisés pour faire la sale besogne; Jim Davis aurait été tout à sa place dans la prison d'Abu Ghraib à torturer des présumés terroristes. ]
(7 Nov) The History Boys (2006, Nicolas Hytner) [ review ] 68
(8 Nov) I'm Your Man (2006, Lian Lunson) 76
[ I'm a huge fan of my homeboy Leonard Cohen, so this Mel Gibson-produced (he's such a whore for Jews!) concert film/documentary/tribute was pure joy to me. The presence of Rufus and Martha Wainwright, the McGarrigle sisters, Antony, Nick Cave and U2 is just gravy, man. ]
(11 Nov) South Park 10.13 (2006, Trey Parker) 72
[ ERIC CARTMAN 2546 – "No, see, I know it's a stupid idea, because I actually did freeze myself and, you were right Kyle, it backfired and I was frozen for 500 years and now I'm calling you from the future." ]
(12 Nov) La vie imaginée de Jacques Monory (2006, Jennifer Ayllen) 67
[ Reviewed for Voir ]
(13 Nov) For Your Consideration (2006, Christopher Guest) [ review ] 43

(13 Nov) Casino Royale (1967, Val Guest, Ken Hughes, John Huston, Joseph McGrath & Robert Parrish) 21
[ Whoaaaa, what a mess! Yeah, let's make a James Bond movie with 8 writers, 5 directors and 3 actors alternately playing Bond. First at the bat is David Niven, stuttering his way through roomfuls of Scottish babes to major boredom. Then Woody Allen has an amusing enough coupla scenes and Peter Sellers does his thing all right, but nothing really connects. Nowhere near as well as anything in the "Austin Powers" trilogy, that's for sure. I did get a kick out of watching Orson Welles (doing magic tricks!) as Le Chiffre, though. ]
(14 Nov) Casino Royale (2006, Martin Campbell) [ review ] 75
(15 Nov) South Park 10.14 (2006, Trey Parker) 80
[ I've said this before and I'll say it again: beyond the brilliant socio-political satire and the sheer vulgarity, Trey Parker's at his best when he's spoofing movie clichés. This 'sode is the ultimate Might Ducks flick in 22 minutes. The kid players aren't just lousy, one has cancer and wants the team to win one game before he passes away — cue the violins! And yes, the coach (Stan!) has a hidden trauma from when he used to play pee-wee hockey himself: "Imagine If There Was One Game. One Chance To Make Everything Right. Stan Marsh Has Been Given That Chance. But To Win, He's Gonna Have To Put Out All The Stops, In: STANLEY'S CUP. Rated R." ]
(16 Nov) Deck the Halls (2006, John Whitesell) 12
[ Reviewed for Voir ]
(16 Nov) Lost and Delirious (2001, Léa Pool) [ review ] 91
(18 Nov) Edmond (2006, Stuart Gordon) 53
[ Definitely swimming in the same waters as "Taxi Driver" or "Eyes Wide Shut", but Gordon is hardly a Scorsese or a Kubrick. Bill Macy's solid and Dave Mamet's script is pretty tight (even though it's obvious it was originally a play), but this is more of a riff on violent sexual alienation than a full plunge into it. This is exploitation flick horror instead of real horror, you know? Still, it flows, as rough as it is, and the resolution to the racist undercurrent is damn confounding, in a good way. ]

(20 Nov) Dreamgirls (2006, Bill Condon) [ review ] 92
(21 Nov) Tenacious D in The Pick of Destiny (2006, Liam Lynch) [ review ] 90
(23 Nov) The Fountain (2006, Darren Aranofsky) [ review ] 94
(24 Nov) A Year in the Death of Jack Richards (2006, B.P. Paquette) 71
[ Reviewed for Voir ]

(27 Nov) The Illusionist (2006, Neil Burger) 73
[ The other magician flick of 2006, this might not be on the level of "The Prestige", but it's still a pretty damn potent work of sleight-of-hand with exquisite, painterly cinematography and art direction, a typically brilliant score from Philip Glass and solid performances from Edward Norton, Paul Giamatti and Jessica Biel. I figured out the mystery rather early on, but I couldn't get enough of the gorgeous craftsmanship and the touching love story. ]